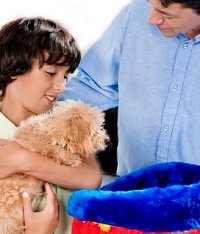 Adopting a puppy is a very special event for your family. It is also a tender time for your new puppy dog. During the first days in your home, your new puppy will be going through a time of transition as he or she learns to adjust to a whole new environment filled with unfamiliar sights, sounds, people and sometimes even pets. This transition time will be easier for you and your new puppy dog if you follow the following 10 adoption tips during the first 30 days after you adopt your new puppy.
Before Bringing Your New Puppy Dog Home
There are many things you can do to help prevent puppy problems before they occur and it helps to be prepared and get your home ready before you bring your new puppy home.
1. Designated Areas.
Decide where you want your new puppy to spend his or her time. Good designated areas might include rooms without carpeting so that clean-up can be fast and easy when accidents occur. Puppy proof those areas that your puppy dog will be spending in. Remember, puppies like to explore and play with new things, including things they shouldn't play with like dangerous electric cords, plants, books, shoes, clothes and more. During your puppy dog adoption day at Mari-May Kennels, you were likely shown examples of various baby gates which have been installed in doorways here which help us train our dogs and puppies. We also have safety latches on low cupboards, we store household cleaning supplies on high shelves, we have safety plugs in unused electrical outlets, and there are no indoor plants or breakable items within the reach of a puppy dog.
2. Veterinarian Care.
Plan ahead when you make a well-puppy appointment with your veterinarian to also have your puppy micro chipped if at all possible, and once your new puppy is micro chipped, be sure to send in the forms to register your pet with the micro chip company. This will ensure your puppy dog's safety if he ever becomes lost. For more information about the importance of pet identification, read our section about micro chipping. During the first visit with your veterinarian, make the Doctor aware of the de worming and vaccine schedule which was provided to you from Mari-May Kennels. This important information will help your veterinarian make recommendations for your puppy dog's future health care.
3. Crate Training.
Puppy dogs from Mari-May Kennels have started lessons in crate training. If you decide to crate train your new puppy, have an appropriately sized crate ready at home in your designated puppy training area. For Maltepoo, Shihpoo or Schnoodle puppies, we recommend a pet carrier size of approximately 19 x 12 x 11 (length x width x height in inches). Sizes will vary according to pet carrier manufacturers, but this general size recommendation will be very handy for you in for about the first 30 days after you adopt your new puppy dog. Click here for information about crate training a puppy dog.
4. Develop vocabulary
for training your new puppy that will be used consistently by you and your family. One of the first lessons a puppy learns is his new name, and a puppy is generally quick to learn her new name! Be sure to pick a dog name that will be easy to remember and fun to say. Look for great
puppy dog names here
.
5. Good Manners.
A puppy is never too young to learn good manners, so begin with an easy dog command such as sit. Puppies at Mari-May Kennels learn the sit command as early as 7 weeks. The key is to be patient, loving and brief with all lessons. For more lessons to teach your new puppy dog, click here.
6. Traveling Home.
Prepare for the trip home with your new puppy by packing paper towels, a bottle of water, a small leash and collar, a dog bowl, a towel, and a pet carrier. Line the pet carrier with a small hand towel. On your puppy adoption, you received (or will receive) instructions from Mari-May Kennels on how to travel safely with your new puppy. But, let us remind you here to
NEVER leave a puppy (or a pet of any kind) unattended in a car - especially in the summer time
.
7. Introduce your puppy to children
slowly and carefully. Young children should be supervised when playing with a young puppy. If you have pets, slowly and carefully introduce your puppy to the pets in your family. Be aware that your new puppy may be nervous at first. Everything is new to him, so take it slow so he can acclimate to the newness of your home. Read more about introducing puppy dogs to children and pets HERE.
8. Limit activity
in the first few days until the puppy has had time to get to know you and your family. It is important to establish a relationship with your new puppy so that he is familiar with you and bonds with
before
he meets more new people. It is also best to avoid public places like parks and pet stores until your veterinarian has finished administering all vaccines.
9. Dog Food.
When you adopted your new puppy from Mari-May Kennels, you were given puppy food recommendations, sample dog food and a feeding schedule. It is likely that you will have to modify that schedule to yours. Your new puppy will quickly learn and adjust to mealtimes in your home. If you plan to switch from our puppy food recommendations to your own, do so slowly by incorporating a small measure of his new puppy food every day into the food he had been eating. It only takes about a week for a puppy to make that change. But, remember, wholesome natural dog food is better than commercially processed dog food no what the label says or how much you pay for it. "Processed" can never be as good as "fresh", and if it is OK to feed your puppy commercially processed dog food made from ingredients such as oatmeal, barley, chicken, lamb, duck, peas, carrots, blueberries, eggs and more, then why not feed it fresh in the first place. Check our section about
natural nutrition for dogs
.
10. House Training.
Teaching a new puppy where to relieve himself requires constant attention, but it is not impossible or difficult to achieve. Make house training fun and offer incentives and praise every time your new puppy relieves himself in the proper place. Use the training information given to you on adoption day and stick with it. Before long, your puppy will be house trained.
Adopting a new puppy is a big commitment. Plan to be attentive and patient with the project. Be consistent and loving towards your new puppy no matter what she does. Give your puppy time to adjust and overlook "mistakes". Before long, puppy hood will pass and you will have a best friend worth the time it took to make your puppy a good dog.
Visit our recommended
dog training books page
.