About Mari-May Maltepoos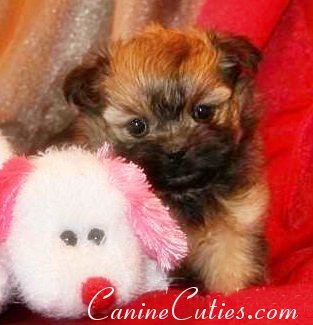 Mari-May Kennels HOME
---
The Darling Maltepoo!

The Maltepoo (also spelled Maltipoo) is a small mixed breed dog. Mari-May Maltepoo puppies are bred to be highly intelligent and gentle.

These charming little bundles of joy have been popular for many decades and stars such as Jessica Simpson are pleased to show off their prized Maltepoos! Mari-May Maltipoo pups are particularly popular due to the fact that they are a very small small in size, easy to train and they have exceptional temperaments. Their coat is angel soft like a Maltese, and can be either straight or a bit curly (though never quite as curly as a Toy Poodle).

Our Maltipoo puppies for sale come in many colors, including gold, grey, cream, white, and black.

Temperament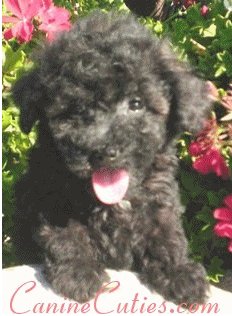 Maltepoo puppies are extremely intelligent and very good with children. They are affectionate, loyal, awsomely playful, cuddly, and easy to train. They do not have nervous personalities and this makes Mari-May Maltipoos self-content, gentle and easy to get along with. They are happy, people loving (they especially love children!), and socialize well with other pets. Due to their calm natures, maltepoos make excellent lap dogs. Playful and affectionate a Maltipoo puppy makes a great companion and family pet.

Height & Weight
This widely depends on the parents of the puppy.

Mari-May Maltepoo pups are the result of the careful selection of both parents after a complete evaluation of health, personality and temperament. Our Maltipoo parents are quite small usually between 4 and 7 pounds. Our pups, as adults, can range anywhere between 4 and 7 pounds.

Health Concerns
Unknown as no research as been preformed on this mix, however mix breeds in general tend to be healthier than pure breeds, as the breeding lines are more broadly spread and there is limited opportunity for inbreeding. At Mari-May Kennels, there are no inbreeding practices. Our extensive experience indicates that Maltepoos (in our breeding lines) are vigorous, healthy and uaually long lived.

Exercise
Maltepoos love to play and will make a game out of almost anything - fetching toys or playing hide-and-seek! Maltipoos also love to cuddle and sit contently on a loving lap

Life Expectancy
About 14 years, sometimes more. A natural, whole foods diet greatly extends the life of a Maltipoo, and we feed our dogs a high quality diet rich in organically natural foods.

Grooming
The Maltepoo should be brushed weekly and clipped every 6-12 weeks. Keep the nails trimmed. Trim hair around bottom and eyes as needed.

Maltepoos do not shed and that makes them a good choice for allergy sufferers.

Group
Loving devoted companion!

The Mari-May Difference
Mari-May Maltepoos are the result of a very careful breeding program that considers not only the outstanding health of both parents but their exceptional personalities as well. This helps ensure that our Maltipoos are gentle, extremely social, sound minded and non agressive - wonderful family dogs in every way!



Mari-May Maltepoos are raised in an educationally enriching environment.


Our weaning process is carefully planned to minimize separation anxiety.


We firmly believe in the positive benefits of constant association between mothers and pups and wean much later than most dog breeders.


Mari-May Maltepoo pups are weaned onto an exceptionally excellent diet of natural whole foods to give them the most healthy start possible. Visit our dog nutrition page for more information about the natural dog food we feed to our dogs


We believe in the careful socialization of each Maltepoo pup we sell.


We have a very small breeding program and only have a few litters a year. We focus on quality, not quanity.


We do not broker our puppies or dogs. We own and raise the puppies we sell. Our dogs are house dogs.


Their special environmentally controled nursery features many extras including classical music!


Maltipoo Pups are started in our special early Puppy-Kindergarten program before they leave for their new homes. Early training includes collar and leash conditioning, crate training, introduction to other types of animals including cats and much, much more.

The Mari-May Code of Ethics is a very high standard which encompasses our entire breeding program and the dogs and puppies we sell. We believe in the integrity of the work we do and know that our ethical commitment is important to our customers, our dogs and our pups.

If you are interested in buying a Maltepoo puppy, we would be happy to talk to you about the Maltepoo puppies we have for sale. Buying a dog is an important decision and we are here to help you buy the right puppy.

Telephone interview & Puppy Application Information




Mari-May Kennels HOME