The Sires at Mari-May Kennels
Mari May's My Little Cesar - Miniature Schnauzer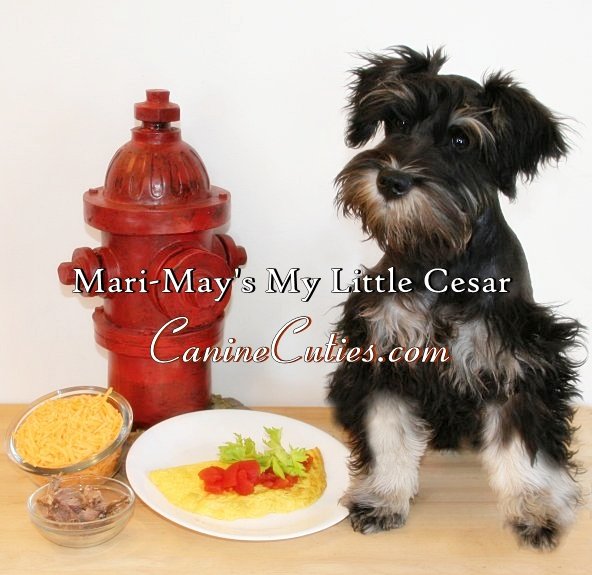 Cesar was selected by a advertising company to model for a natural dog food campaign when he was only 7 months old. While we felt deeply and truly honored, it was not difficult to understand why our Cesar was selected. Not only is he clearly photogenic, Cesar is completely self-possessed and has the impeccable ability to remain focused and on-task in any situation - even when being required to carefully sit still along side delicious chopped chicken, tempting shredded cheese and a mouth watering omelet! Just look at his rapt concentration in the picture above. Once called to attention, Cesar never moved and never took his eyes off of me. The photography session took a fair amount of time, and the studio photographers were truly amazed by how well trained and cooperative Cesar was - remember, he was only 7 month old!

Cesar is the standard by which we measure a truly great Miniature Schnauzer. He has a gentle and enduring personality and he deeply desires to be pleasing. Cesar is not nervous or insecure around new people or situations and his constant, dutiful focus is dependably on the job at hand. Even as a puppy and adolescent, Cesar demonstrated the extraordinary ability to quickly comprehend training secessions and keenly focus on job commands.

While Cesar profoundly loves his family, he also welcomes new visitors as if they were old friends. Cesar is completely engaging and friendly with other dogs and cats as well. With puppies, Cesar has always proven himself to be a wonderful and ever patient "Mentor". Most of all, Cesar loves children of all ages.

Cesar very rarely barks. But when he does, there is always a sound reason for calling our attention.

Steady, loyal, loving, brave, sound, brilliant, devoted, confident, fearless, funny, charming, dependable and true - these are just a few of the words that come to mind when describing Mari-May's My Little Cesar. It is Cesar's authentic greatness that contributes to the wonderful Schnoodle puppies of Mari-May Kennels!





We are in the process of updating this page. Please visit again as we continue to introduce you to our other outstanding sires!